Soft Footing
What is Soft-Footing?
Soft-footing is normally used to convey improper contact between a machine casing and the base plate used to support it. It directly affects repeatability in shaft alignment measurements. Soft-footing not only causes issues with alignment quality and repeatability but it also can be the cause of machinery vibration, reduce life in electric motors, and cause internal clearance problems in gearboxes and pumps. There are three types shown below: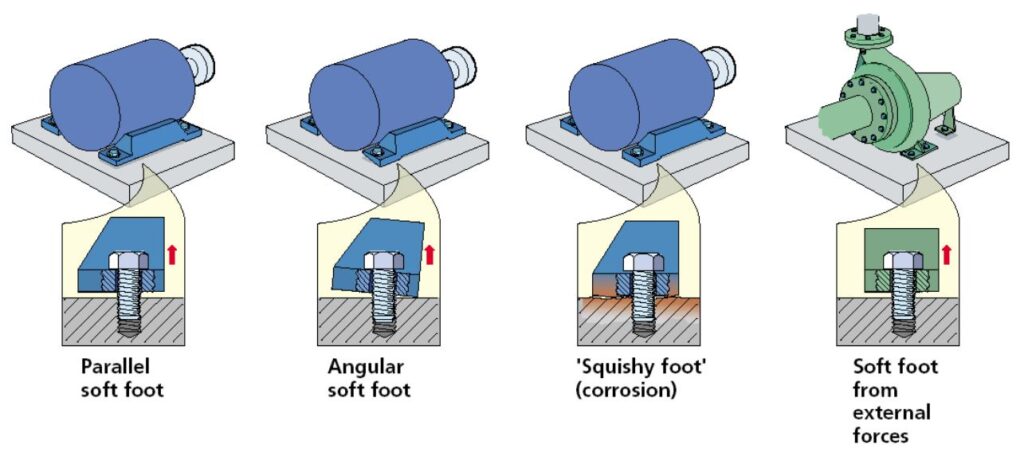 What Causes Soft-Footing?
Some of the conditions that causes soft-footing are:
Excessive tension on machine feet due to jack bolts warping the machine feet.
Twisted or warped machinery foundation or baseplates.
Twisted, warped, or damaged machinery feet.
Improper amount of shims under machine feet.
Dirt, trash, or other unwanted materials under machine feet.
How to detect Soft-Footing?
Soft-foot patterns are often hard to diagnose hence requiring well-trained vibration technicians to identify it when using traditional methods. In contrast, new technologies allow for easier identification. Here is how they rank:
Good Option: Using accelerometers – it appears as an elevated 1X RPM (both axially and radially)
Best Option: Motion Amplification® – it provides 2.3M sensors allowing effective detection and visualization
How to Mitigate Soft-Footing?
Below are some practical steps to minimize and control soft-footing:
Confirm that base plates and foundations are installed and leveled to specifications.
Verify baseplates and machine feet are clean, deburred and free from dents in mounting areas.
Use clean, flat shims. If cutting thicker shims from steel stock, be sure they are clean, flat and deburred.
Once the machine components are placed on the baseplate, rough align, and perform gross soft-foot check both movable and stationary machines.
Once gross soft-footing has been corrected, tighten each bolt using the correct pattern, that is; start with any foot, then, go to the opposite corner, after, go to the foot to the left and finally, to the opposite corner.
It is recommended to use laser alignment tools that have soft-foot check capability.
Further guidelines about adequate machine mounting and flatness tolerances for bases can be found in API 610.
Zudak Solutions employs Motion Amplification® to effectively diagnose soft-footing and other issues affecting your assets. If you have any questions about Motion Amplification® or any other service we offer, contact us!
---
---